Property Description
If you are a hunter with big dreams of harvesting trophy whitetail, long beard turkeys, and coveys of bobwhite quail, Grimsley Mill Plantation is your dream come true! Located two miles from the majestic Chattahoochee River, 1,810 contiguous acres of multi-generational pine stands, hardwood creek bottoms, and open landscape rest in the heart of some of the most abundant deer, turkey, quail, and dove hunting South Georgia has to offer.
The diverse terrain and layout of this property are perfect for the hunter who wants more control over the design of their wildlife management plan. Three spring-fed creeks, Grimsley Mill Branch, Judy Branch, and Factory Creek, with numerous springheads, meander through Grimsley Mill Plantation, drawing deer and turkey from the thousands of surrounding acres. The property boasts multiple pine stands with divergent borders that create covert transition zones where deer and turkey won't know what hit 'em! The hardwood creek bottoms, interwoven with acorn-generating white oaks, are a bow hunter's dream. The established and well-managed road system and creek crossings make it easy to navigate and access the land's bounty. As if all that wasn't enough, the gently rolling terrain just might seal the deal.
Let's talk wildlife! This property has been the beneficiary of the Quality Deer Management program for over 15 years with harvested trophy bucks ranging in the 140s-class on the Boone and Crockett scale. The next owner of this property will reap the rewards from the adjoining 5000+ acres where property owners have mindfully practiced the QDM program for years. Whitetail hunters have a variety of hunting options; open land that a gun hunter can visually cover for acres on end, hardwood creek bottoms for the bow hunter to get close, and pine stands with lane after lane of linear shot options.
For those who love a good turkey hunt, get your calls ready! The landscape provides plentiful roosting habitat, abundant food sources, and protective cover for nesting. Many impressive long beards have been harvested on Grimsley Mill Plantation with plenty more waiting for the next land steward. For the wingshooters, this property is in the belt of the "Quail Hunting Capital of the World".  With the natural vegetation, ground cover, and a little sweat equity, you can design the perfect hunting course. With a generous amount of open space, the opportunity presents itself to cultivating several enticing dove fields.
Grimsley Mill Plantation can easily generate revenue with is its multigenerational timber stands of loblolly and longleaf pines. Five stands established over a 44-year range offer immediate revenue options and return on investment for decades to come. The timber cruise is available upon request.
Proximity tops off this highly desirable real estate. It is located within a few short miles from the Chattahoochee River and historical Kolomoki Mounds. The property feels worlds away from it all yet it is only a few minutes from the city limits. The paved road access makes for quick trips for groceries, fuel, supplies, or dining at one of Blakely's many family-owned or fast food restaurants. Blakely also has a full service hospital and emergency room. More importantly to large tract landowners, it boasts a John Deere dealership with a repair shop! For more entertainment and retail options, Dothan, Alabama is a short drive away.
Travel to Grimsley Mill Plantation isn't limited to the ground. The Early Aviation Center (BIJ), located three miles east of Blakely, can accommodate numerous types of private aircrafts with its 5,494' long and 98' wide runway and also sells aviation fuel. Commercial airports are located 30 miles west in Dothan, Alabama (DHN), 80 miles south in Tallahassee, Florida (THL), 96 miles north in Columbus, Georgia, and 188 miles north in Atlanta (ATL).
Located in the founding region of Early County, it is rich in wildlife, timber, and heritage. This sprawling plantation is turnkey-ready while having limitless potential to become a custom-hunting showplace. Watch the video and let your inner hunter run wild at Grimsley Mill Plantation!
BOUNDARY MAP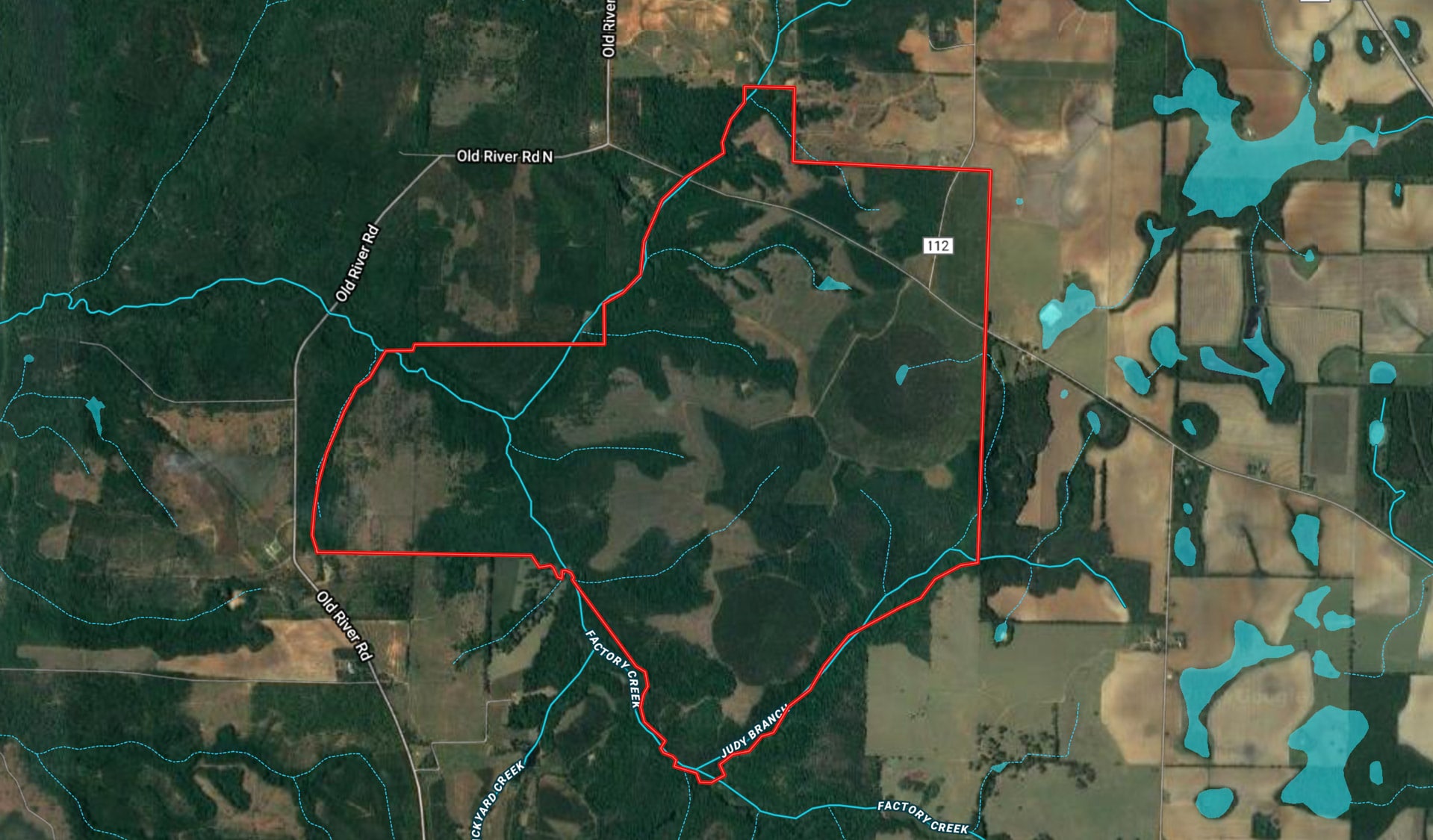 Property Id : 18531
Price: $ 3,982,000
Property Lot Size: 1,810.00 ac
Land Type: Acreage
Proposed Use: Timber, Hunting
Natural Water Sources: Factory Creek, Grimsley Mill Creek, Judy Branch
Road Frontage: Grimsley Mill Road, Wiley Road
Other Features
Bobwhite Quail
Dove
Hardwoods
Loblolly Pine Timber
Longleaf Pine Timber
Whitetail Deer
Wild Turkey
Property Reviews
You need to
login

in order to post a review
Similar Listings