Overview
Updated On:
June 21, 2022
Property Description
9 Hole Golf Course
This extraordinary 158.48-acre property has numerous untapped revenue sources for the innovative investor. In its heyday, the Blakely Town and Country Club was a flashy diamond in the middle of a small country town. Established in 1959, it has seen the likes of thousands of golfers and members and is an Early County icon. What elevates this property's value over others is the number of investment opportunities it offers.
Event Venue
At a prestigious 7,636 square feet, the former club house has incredible potential as an event venue with its updated grand dining room and vaulted wood beam ceiling. It has a commercial kitchen, cooler, and separate bar lounge. It has two multi-stall restrooms with en suite lounges. The view from the back patio is a bride's outdoor wedding dream. Imagine a spring wedding on a former golf fairway and green with a stunning 4-acre pond as a backdrop!
Cottage
A 3-bedroom, 3-bath, 1,436 square feet two-story cottage sits a few hundred yards from the club house. It can easily be converted into a bridal party preparation suite, lodging for guests, housing for management, etc.
To capitalize on previous private membership liquor sales, the lounge/bar could be open year-round to members only to offset the weekdays and season when there are fewer events.
The property also has a fenced inground pool and pool house. This feature could be another source of revenue as a separate venue for pool parties or year-round memberships for pool access.
With its fortress-like bones and new roof, the next proprietor can focus on the design that will take this showplace beyond its original glory. This option is also great for the investor who wants the venue but may not want the additional acreage. The demand for large acre tracts in this area is high but the inventory is low. There is potential to quickly recoup some of the purchase price at a premium.
Country Estate
As a residential property, it could be the crown jewel of South Georgia. Not many could boast of a 7,600+ square foot home, guesthouse, stocked pond, pool, pool house, private driving range, and 9-hole golf course!
The original vaulted wood beams ceiling and pond view make it easy to visualize the grand dining room as an open concept living space and state-of-the-art kitchen. The natural light that generously pours into the east side of the room will make the stately space feel like home.
If golf isn't your thing, the open fairways can be easily transformed into some of the most beautiful pastureland around. Every country estate needs some beautiful horses or cattle to roam the rolling acres!
Hunting Land
This property boasts 158+ acres of prime hunting land in Early County just minutes from town! One hundred-to-two-hundred-acre tracts are far and few between in Southwest Georgia.
The property is multi-dimensional with its 40-acre, 25-year-old Loblolly pine stand, 32-acre hardwood/pine mix, open-grass corridors, and 4-acre pond.
The sky is the limit for the hunter or hunting club who wants to easily customize their hunting habitat. Lodging options can be as simple as a quick cottage/cabin refresh or go big with a custom renovation of the club house to build the hunting lodge of your dreams with a million-dollar view!
Real Estate Development
This land tract is primed for real estate development opportunities. An investment group might finish out the golf community it desired to be. There is also an enormous need for middle class and high-end housing in the community. The four-laned Highway 27 frontage makes for excellent commercial retail opportunities.
Timber or Cattle Farmland Investment
This nutrient-rich property can turn into an instant cash flow vehicle with harvesting the 40-acres of mature timber. Being a former golf course, the open driving range, fairways, and greens make for easy planting of pine trees or fencing for pastureland. A 6-inch private well and the 4-acre pond support the irrigation system, making it a fit for cattle farming, as well.
Golf Course Investment
The Blakely Town and Country Club was established in 1959. It thrived and survived through many economic upturns and downturns. However, it could not surmount the back-to-back challenges of Hurricane Michael and the COVID-19 pandemic. Capital, entrepreneurial vision, and strategic marketing could breathe exponential life back into this golf course, club, and surrounding communities.
Community Park
In addition to utilizing the property as an event venue, year-round bar/lounge, Airbnb rental, and pool membership, the golf course could be easily transitioned into a community park with walking trails. It could be a draw for travelers on Hwy 27 and locals which would expose them to everything the property offers.
As you can see, the opportunities are limitless for this once-in-a lifetime property. Who needs Disney when this property can make all your dreams come true!
BOUNDARY MAP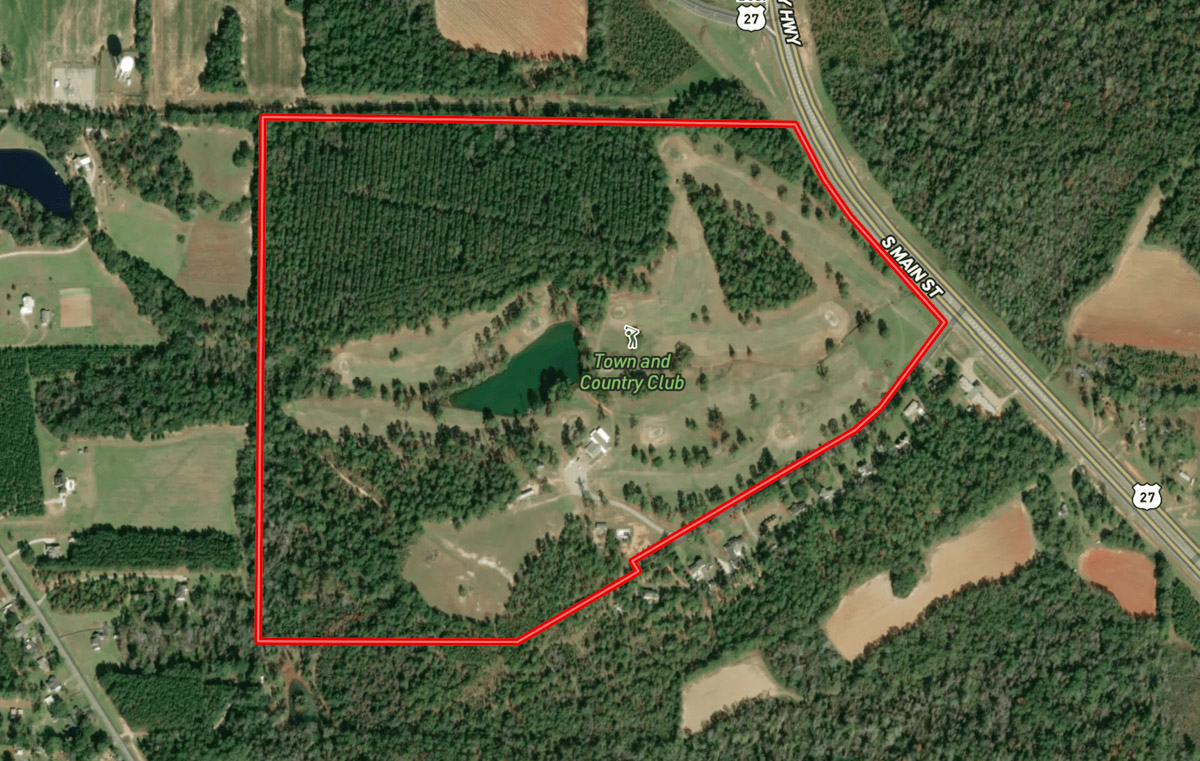 Property Id : 18784
Price: $ 750,000
Property Lot Size: 158.00 ac
Land Type: Acreage
Proposed Use: Residential
Road Frontage: Highway 27
Utilities: City water and sewer
Other Features
Building(s)
Pond Fishing
Pool
Well(s)
Whitetail Deer
Property Reviews
You need to
login

in order to post a review